We provide cleanliness
The bathroom is your harmonious refuge. It's where you feel happy and safe. Cleanliness and hygiene are the best conditions for this. So it's good that your bathroom elements support you in this: our BetteGlaze® finish offers effective protection against germs and bacteria. Dirt is unable to adhere to our jointless shower areas. And our outflow sets actually take care of cleaning the drains of the bath, shower or washbasin all by themselves. Sounds like a clean affair? We think so, too. We hope you enjoy it!
Our BetteGlaze® Plus is an extra touch of sophistication for the surface, applied after the final firing. Bathtubs, basins and shower trays are coated with a transparent polymer film. It is water-repellent, allowing droplets to roll off even more easily and reducing deposits, which makes cleaning easier. Simply wipe with a damp cloth. No need for strong cleaning agents, saving time and helping our environment.
No more hair in the drain
We're all familiar with the problem of hair and dirt settling in the waste fitting and blocking the drain.. The solution? Our BetteSolid. It cleans itself all by itself.
The comparison shows: Bette shower surfaces can do more
Joints in a tiled shower area are
real dirt traps
provide a good base for germs and bacteria
are difficult to clean
cause water damage because of the porous joints
are difficult and expensive to repair and maintain
cannot be reused in conversions or renovations
Bette shower areas
cover the sensitive shower area without joints
have a strong, glass-like surface that dirt is unable to adhere to
are easy to clean
reliably protect the building shell against penetrating water
can be inspected at any time, and are a lasting investment in quality and durability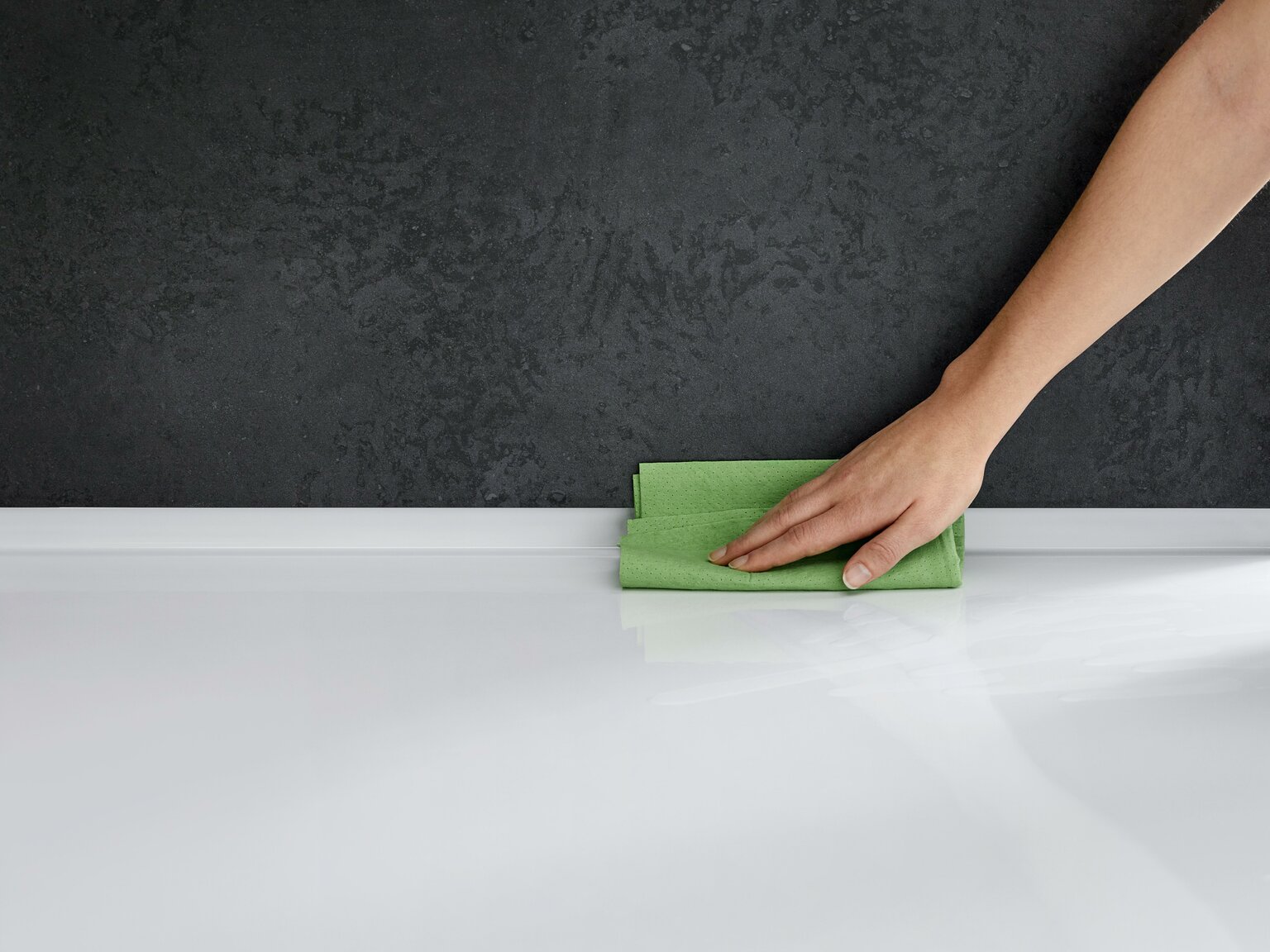 Elegant and sealed - the BetteUpstand
The silicone-free wall connection BetteUpstand is the intelligent alternative to vulnerable maintenance joints. Baths, shower trays and shower areas are given a 35 mm upturn in glazed titanium steel that is simply tiled over during installation and connected to the wall. The result is the optically and hygienically perfect connection of wall and bath. BetteUpstand protects against mould and water damage, and saves the regular costs incurred for the renewal of silicone joints.