The right choice of shower surfaces
Unleash your design creativity with our extensive range of shapes, colours and sizes. Find the ideal shower tray that fits seamlessly into your individual bathroom concept - whether it's a floor-level shower tray, a corner shower or a rounded variant. No matter whether you have a small or large bathroom.
Bette shower trays are not only functional elements, but also unique design objects and add a touch of luxury to your everyday life. They are available in a wide range of sizes, from compact standard formats to spacious areas for comfortable, floor-level showering.
All shower trays
20 Products
(*including UK statutory VAT)
Finding the ideal shower tray for your bathroom - step by step
Space planning: Start with an accurate measurement of your bathroom. Take into account the room dimensions and available space to determine the optimal size and shape of the shower tray.

Style matching: Think about the style you want for your bathroom. Should it be modern, classic or perhaps minimalist? Choose a shower tray that complements and harmonises with the overall design.

Shape and size: Decide on a shape that fits the room. Whether square, rectangular, round or asymmetrical, make sure the size of the shower tray is appropriate and fits well in the room.

Type of shower tray: Consider whether you prefer a floor-level shower tray or a raised version. Floor-level shower trays create a seamless appearance, while raised trays can be a visual feature.

Safety: look for non-slip surfaces, especially if children or elderly people will be using the shower.

Water connections: The location of water connections and drains for the shower will depend on the specific installation and design of your bathroom.
The right shape of shower tray
Choosing the right shape for your shower tray depends on your personal preferences, the space available and the design of your bathroom.
Here are some common shower tray shapes and their benefits:
Square shower tray
Square shower trays offer a classic aesthetic and work well in compact bathrooms. They fit perfectly in corners and can also be used in larger bathrooms to create a central focal point.
Rectangular shower tray
Rectangular shower trays are versatile and offer more space for showering. They are ideal for larger bathrooms and can be placed against a wall or freestanding.
Pentagonal shower tray
Pentagonal shower trays have a modern aesthetic and fit well in corners. This allows you to use space efficiently and create a unique visual dynamic.
Quarter-circle shower tray
Quarter-circle shower trays are ideal for small bathrooms as they fit into corners to save space. They offer a curved aesthetic and a practical solution for limited spaces.
How to find the right shower tray size & depth
Our Bette shower trays are available in a variety of sizes to suit different needs and space constraints. Here are some common sizes of shower trays:
Square shower trays: Typical sizes for square shower trays range from 70 cm x 70 cm to 100 cm x 100 cm. These sizes offer a good balance between space and space saving.
Rectangular shower trays: Rectangular shower trays are available in a range of sizes, starting at around 70 cm x 90 cm up to 120 cm x 200 cm or larger.
Quadrant shower trays: Quarter-circle shower trays are often available in dimensions such as 80 cm x 80 cm or 90 cm x 90 cm. These are ideal for small bathrooms as they fit into corners.
Pentagonal shower trays: Pentagonal shower trays typically range in size from 90 cm x 90 cm up to 100 cm x 100 cm. They are modern and space-saving.
When choosing the size of your shower tray, you should consider the space available in your bathroom, your usage habits and the level of comfort you want.
Coating the shower tray
Slip resistance in shower trays is of great importance to prevent accidents and falls in the shower. You can have your shower tray or shower surface coated with our anti-slip surfaces BetteAntirutsch Sense and BetteAntirtusch Pro.
BetteAntirutsch Sense works without changing the pleasant surface structure of your shower or bath. The friction effect is hidden in the micro area and becomes noticeable to the user when he or she steps on the wet anti-slip surface with their own weight.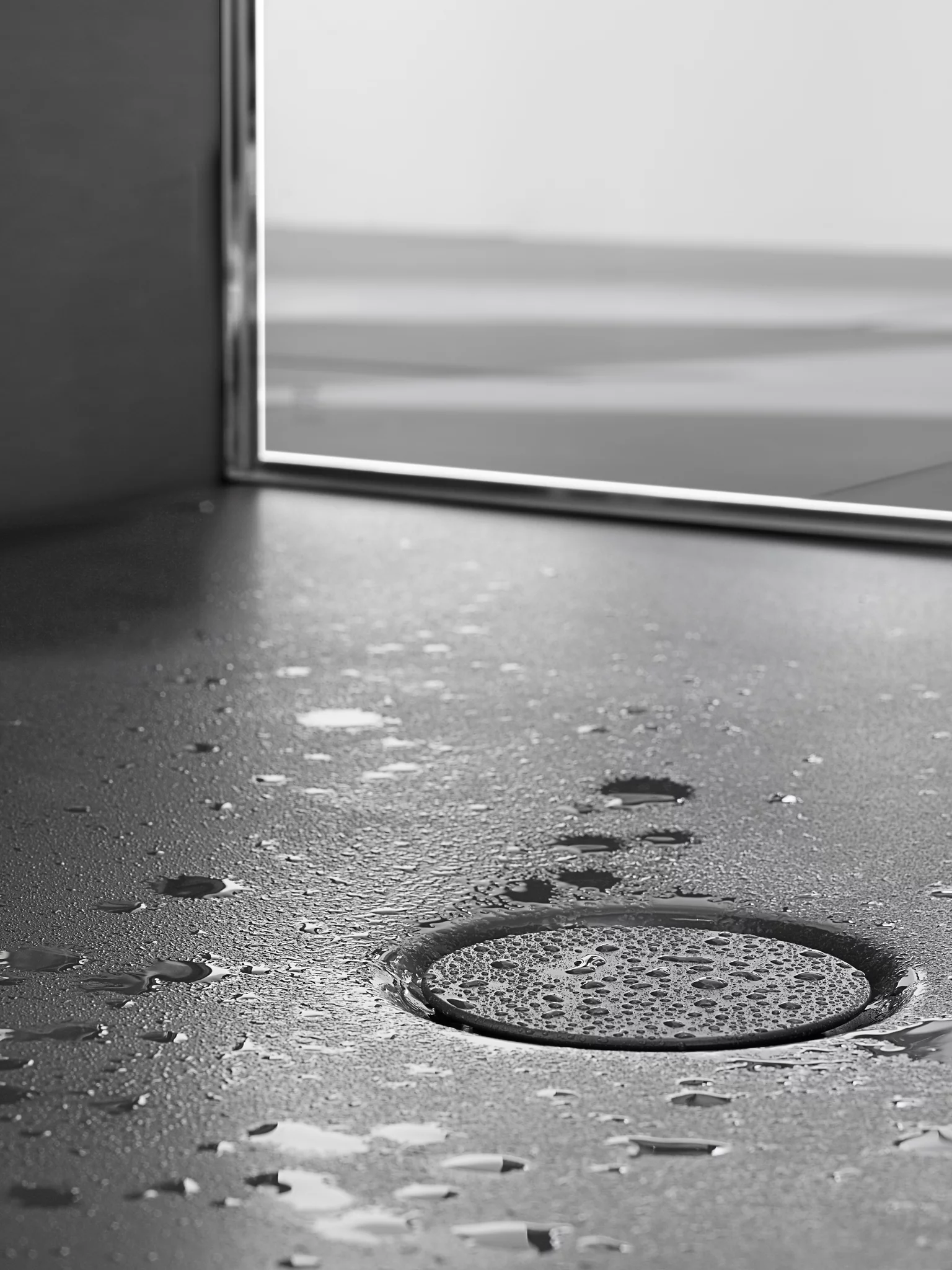 The BetteAntirutsch Pro enamel surface provides increased walking comfort and stability in the shower. Its enamel surface is imperceptibly roughened and provides increased slip resistance for optimum safety when showering.
Shower trays in different colours
Shower trays are available from Bette in a wide range of colours to suit different tastes and bathroom designs.
Classic white: White is the traditional colour for shower trays and goes well with most bathroom styles. It conveys a hygienic and timeless appearance.
Neutral tones: In addition to white, shower trays are also available in various neutral shades such as beige, cream or grey. These colours blend in well with different colour schemes and tile tones.
Pastel colours: Pastel shades such as light blue, mint green or soft pink can give the bathroom a soft and calming atmosphere.
Bold colours: If you want to add a touch of personality to your bathroom, bold colours such as dark blue, dark green or bordeaux could be an interesting choice.
When choosing the colour of your shower tray, consider the overall look of your bathroom, your personal preferences and the style you want to achieve. Also think about how the colour you choose will harmonise with other bathroom elements such as tiles, wall colours and fittings. A well-chosen colour can enhance the aesthetic appearance of your bathroom and emphasise your individual touch.
Everything you need to know for the installation of your shower tray
The installation of your shower tray should be uncomplicated and quick. But we have also thought about safety and accessibility of the components in every step of our designs. We recommend that you get professional support for every installation. After all, the skills of experts in the installation of your shower tray can save you unnecessary frustration and possible damage during the bathroom renovation. If damage should nevertheless occur in your bathroom, you can complain to your expert if the installation has been carried out professionally. This relationship of trust with the trade is also a guarantee for the best results for us at Bette.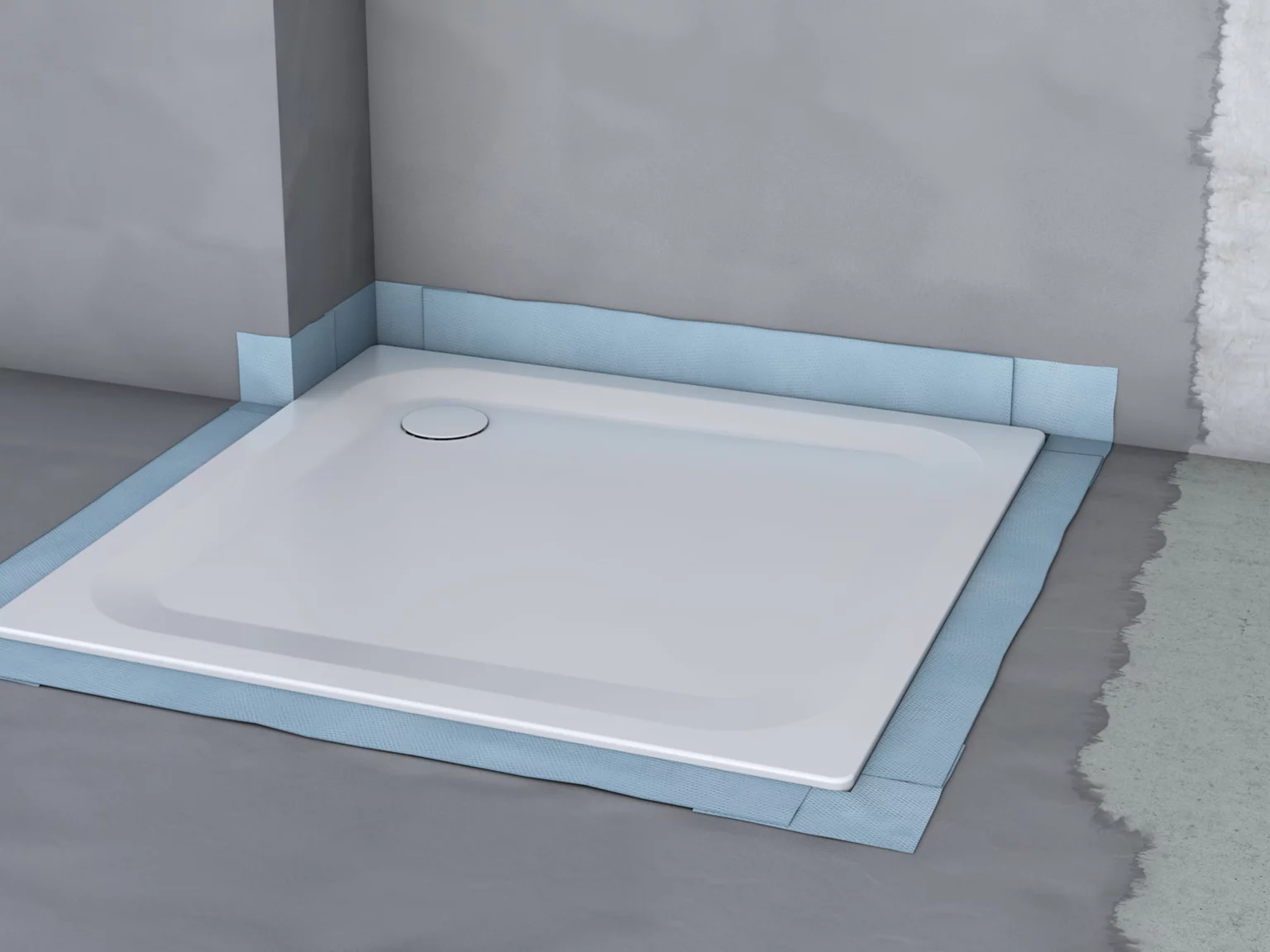 Sealing the shower tray with Bette sealing system
Sealing shower trays is an important step in preventing water damage and moisture in the bathroom. For this reason, we recommend our Pro sealing system for installation, which offers the highest level of protection against water damage (in accordance with DIN 18534). In addition, we offer installation systems, seals, drainage components and more for all steps in the installation of your dream shower tray.
You have questions about our shower trays? We are here for you!
Whether you choose a floor-level or deep shower tray, our glazed titanium steel shower trays offer you optimum comfort, a clean design and can be seamlessly integrated into any bathroom. If you have any questions about our showers, don't hesitate to contact us. You can easily search online for dealers who offer our high-quality shower trays in your area. It's easy to find the perfect shower tray to suit your needs.