Mittermeiers Alter Ego
Rothenburg, Germany
Keep it smart and keep it simple
When the hotelier couple Ulli and Christian Mittermeier converted a former entrepreneur's villa from the Gründerzeit in Rothenburg into a hotel, they wanted to combine the quality of a high-end design hotel with the freedom and informality of a private apartment. While the colour concept of the exterior of the house is characterised by black, transparency and openness dominate inside. The leading idea of the design: consciously omit details, and then make sure everything else is of the very highest quality. "We asked ourselves what the first thing is that a hotel guests looks at, and quickly realised it was the bathroom," explains Christian Mittermeier. The bathroom signals the standard of the hotel to the guest, and is often a source of inspiration. Therefore the hoteliers opted for generous, floor-level showers with plenty of space. The matt black of the BetteFloor shower area is a perfect match both structurally and in colour for the black of the bathroom tiles, and merges seamlessly with the tile structure.
One of the rooms has also been furnished with an exclusive Bette bath. With the skeleton construction of the free-standing BetteLux Shape, Bette has transferred a successful concept from architecture to the interior design of the bathroom.
Stable steel forms the load-bearing, open frame into which the bath made of glazed titanium steel is hung for a brilliant presentation of the softly flowing inner body and the flat edge of the bath. The centrally positioned bath is the star of the room, and gives the room its own brilliance.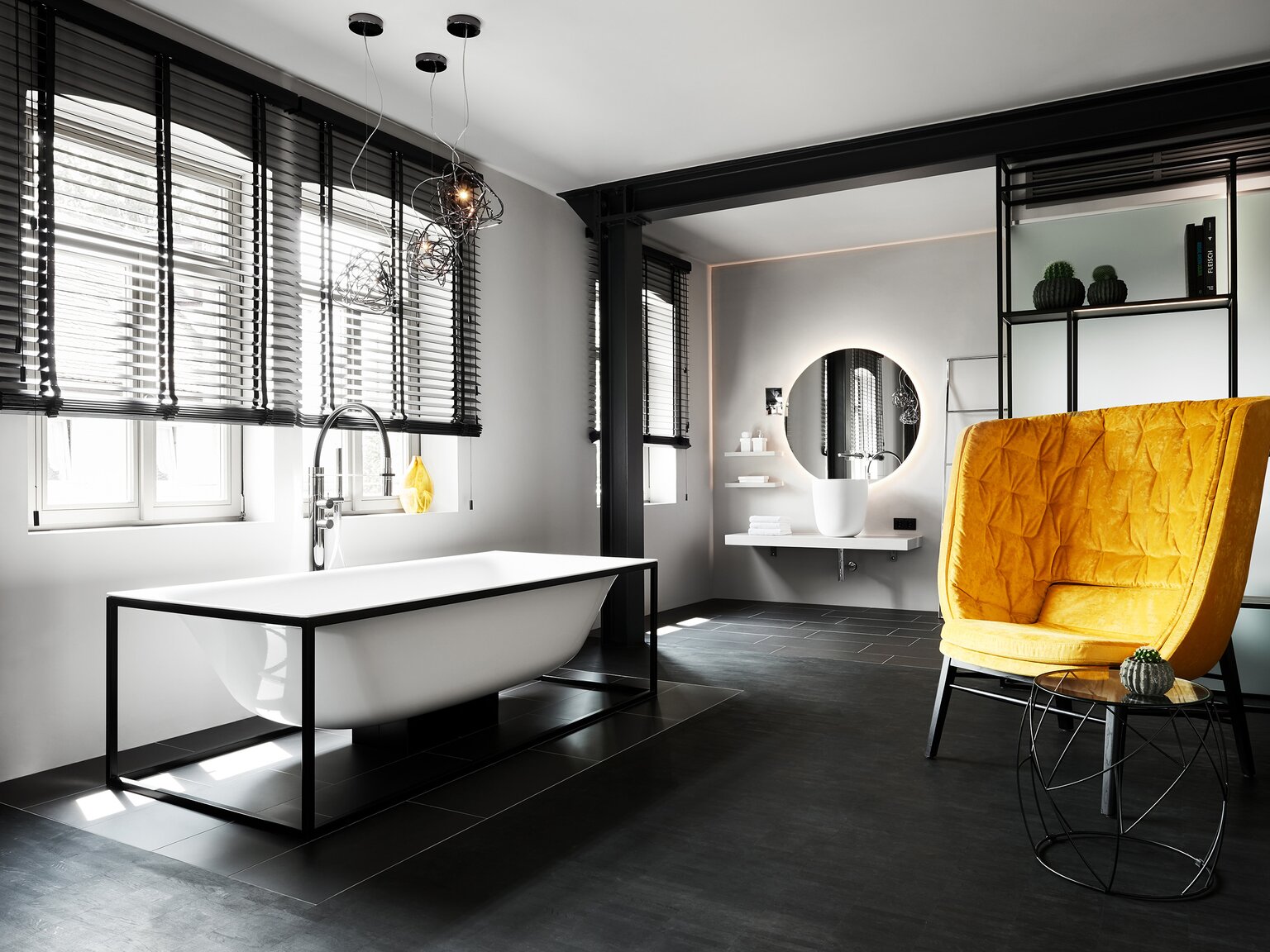 So we were looking for a product that fits our open design concept. The BetteLux Shape bath meets this requirement perfectly. Its supporting structure is not a closed structure.
Similar references
Discover more projects